---
Welcome back, Commander.​

D.O.R.F. Real-Time Strategic Conflict is an RTS game for PC, currently in development, taking inspiration from classic RTS games of the 90's, while also expanding on the genre with new and innovative mechanics. The game will feature land, air and sea combat, and will have three unique factions to play as.​
---
---
ABOUT THIS GAME​
Take command of one of three unique factions and conquer your enemies in a twisted vision of the future. Construct sprawling bases, scour the land for resources to mine and refine, and assemble powerful armies of land, air and sea units to smash your adversaries with.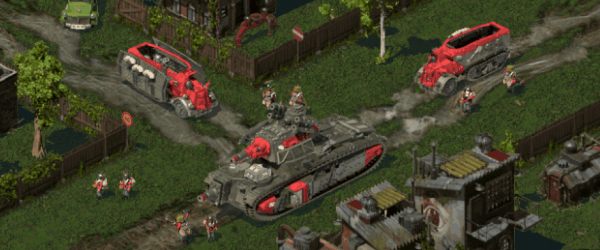 Construct Infrastructure: Build massive bases of factories, refineries and defensive structures to advance your economy and secure your position. Structures can be rotated to have different facings, to allow for maximum base layout effectiveness.
Spoils of War: Pump oil from deposits, mine for ore and gather scrap left over from the battlefield to help further your economy, and create efficient supply lines and logistics networks to ensure that the raw material is made into war material to deliver to your factories.
Air, Land and Sea: Construct and control powerful armies of unique scifi units, from enormous zeppelin bombers, to powerful multi-turret tanks, psychic warriors, and clanky artillery mecha. Call in devastating airstrikes, create trench networks for infantry defense, and establish transport routes to get your units from the factories to the frontlines as quickly as possible.
Storm Enemy Bases: Use your infantry to storm enemy-held positions and base structures to engage with brutal close-quarters combat on the inside. Capture enemy factories to gain access to their technologies, and mix and match their strengths with your own.
MATURE CONTENT DESCRIPTION​
The developers describe the content like this:
Game contains violent death animations for units killed in battle, with blood and sometimes gore.​
---
SYSTEM REQUIREMENTS​
MINIMUM:

OS: Windows 10, 8, 7, Vista (64 Bit)​

Processor: Dual core 3Ghz+​

Memory: 4 GB RAM​

Graphics: DirectX 10.1 capable GPU with 512 MB VRAM - GeForce GTX 260, Radeon HD 4850 or Intel HD Graphics 5500​

DirectX: Version 11​

Storage: 3 GB available space​
RECOMMENDED:

OS: Windows 10, 8, 7 (64 Bit)​

Processor: Quad core 3Ghz+​

Memory: 8 GB RAM​

Graphics: DirectX 11 capable GPU with 2 GB VRAM - GeForce GTX 750 Ti, Radeon R7 360​

DirectX: Version 11​

Storage: 3 GB available space​
---
​
---